I craft logos, create brands,
build websites and deliver design
Contact Linda Page
Do you want to meet?
I work from home, so I'm always keen to get out of it. My "office" is a tiny little room at the back - you have to walk through the house and past the bedrooms, down the hallway…I'm sure you get the picture.

Fortunately, we have a wide range of cool coffee shops and cafés around Rotorua, which are ideal for meetings. Alternatively, I'm happy to come to your premises at a time that suits us both.
Or Zoom.
Do you have a question?
Perhaps there's something you'd like to find out more about?
Contact Linda Page - fill out the contact form and I'll be in touch.
Testimonial
"I am so delighted with the work Linda Page has done for me and really appreciate how great she's been to work with."
Helen Bennett
Bennett's Admin Consultancy
Would you recommend Page Design Ltd?
I'd love to see your feedback
"Linda was absolutely amazing throughout the whole process, we had already spoken with another designer/company and were about to just give up completely and do nothing! We were made aware of Linda and she immediately put our minds at ease. She understood exactly what we wanted to achieve and what parts of our identity we didn't want lost along the way.
Linda delivered exactly what we needed and answered all our questions patiently throughout the process. We are thrilled with our logo refresh and can't wait to use it! :)"
Rhiannon Mitchell
Proactive Pest Solutions
"Linda has been our preferred choice of graphic designer for a number of years now. She has been the creative engine room behind our business branding, campaigns, and pretty much every aspect that necessitated her incredible talent and input. I have and will continue to, recommend Linda's services to industry friends and those seeking an exceptional designer. I have no hesitation in recommending Linda and Page Design Ltd to anyone reading this too =)"
Peter Duncan
Managing Director, The Love Company
"Linda Page is a mind reader! After my rough draft she came up with exactly what I wanted! Very fast and with such a huge patience! She will go beyond her duty to get you what you need! 5 stars"
Karolina Donaldson
Little Fish
"I have had Linda Page design a couple of different company logos for me now. Her work is always fast and of top quality. She is willing to work with you until you are completely satisfied. I wouldn't hesitate to recommend Linda to anyone needing graphic design done for them."
Richard McGibbon
Richard McGibbon Photography
"In a short space of time; Linda Page sorted business cards, a company logo, and headers for emails and letters. I was very pleased with the way Linda listened to what I wanted, whilst steering me in a direction that lead to a great product that is an asset to my business."
Alex Tague
Arete Work Health
"I was introduced to Linda at Page Design by a friend who rated her very highly, I'm so grateful she did. Linda has been fantastic throughout and with her patience and great advice I now have a logo and business card I love. Thank you very much."
"I've had the pleasure of working with Linda Page on many occasions for various projects and have found her highly creative, organised and very cost-effective. I have no hesitation in recommending her to anyone wanting an amazing result for their business."
Adrian Hodge
Hodgeman Web and Design
"I have used Linda Page twice now for design on advertising and one was a time sensitive issue - I could not be happier with her service, professional yet friendly communication and the end product shows an eye for detail and I couldn't be happier. Highly recommended!"
Clare Gordon
Clare Gordon Photography
I'm pretty shy, don't like being in front of the camera, but if we're meeting up and you haven't met me, here are some pics of me in real life: my other happy places: the volleyball court, the netball court, the forest, and the beach.
I coach and play volleyball and netball, walk my dog, mountain bike occasionally and hike sporadically.
~ Linda Page
November 3, 2023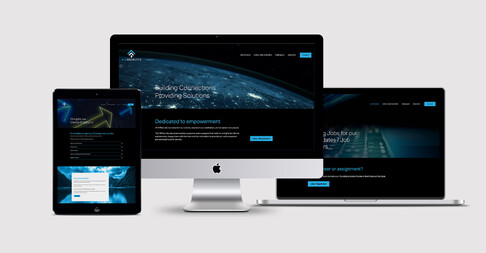 It's all about Recruiting - both for the individual candidates searching for a job and the corporates looking to fill a position. It's new to New Zealand and the team at AllRecruits wants to show their clients they go above and beyond to make the right combinations happen. To begin the process ...
read more